Back
Me3Sn-SDM-8
Precursor
Product number:
PL-074-P1
Chemical name: (R)-4-(3-Fluoro-5-(trimethylstannyl)phenyl)-1-((3-methylpyridin-4-yl)methyl)pyrrolidine-2-one
M. Weight: 447.13
M. Formula: C20H25FN2OSn
Remarks: Coming soon!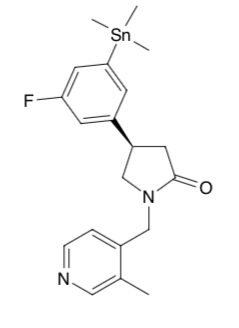 Ask about this product
NB! If you haven't got any response within 3 working days after contacting us through the form below, please check your junk mail folder or send your inquiry directly to Olavi Loog at olavi@pharmasynth.ee or Jukka Hiltunen at jukka@pharmasynth.ee.